Our Apartments Allow Cats & Dogs!
Looking for apartments in East Lansing, MI that allow cats & dogs? Look no further than Castle Pointe Apartments! As a pet-friendly community, we proudly allow cats and dogs here at Castle Pointe Apartments. Now your pet has the opportunity to relax by your side and enjoy the comforts of your apartment home with many great amenities.
Pet Policy:
Castle Pointe allows dogs and cats (limit 2 per apartment)
Pets Upon Approval.
Some restrictions apply. Please contact the office for details.
Current vet records and pictures are required on move-in
Pet Fees (Non-refundable)
$200 Non-refundable fee for first pet, additional $100 for second pet
$30/mo pet rent per pet
For further details on our pet policy, please contact our office staff.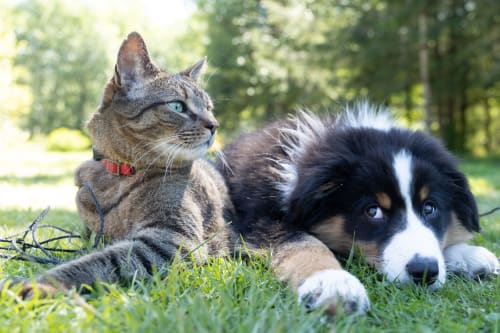 Testimonials
Best Place to Live in East Lansing!! I

- Anonymous
Good job! I had Jeff as my maintenance guy to come fix something and he was very helpful.

- Anonymous
My sink was clogged and stop draining at almost 11 pm and I called the maintenance line. The guys name who came to fix the sink was Jeff and he was very nice able the whole thing and got my problem solved.

- Yelp Review
I love living here! Staff is always helpful and they act fast when there is any maintenance problems, I love the neighborhood and I always feel safe running around. The pool is always clean! and they are very aware of who enters the main offices to have access to the gym and pool which makes me feel even safer!

- Google Review
5 Star Review: Castle pointe apartments are a great place to live. They are roomy apartments mine is a 2bd 2 bath and it's 1002sft. They have great amenities such as a heated indoor pool a gym with updated equipment a yoga room and an outdoor pool. They have a basketball court a play area eve. A volleyball pit with net. Plenty of nature and a friendly staff

- ApartmentRatings
5 Star Review: Great place to live nice amenities. Very awesome staff!

- Google Review
Castle pointe apartments are a great place to live. They are roomy apartments mine is a 2bd 2 bath and it

- Yelp Review
I cant say its the perfect place to live but pretty close! staff is always nice and friendly, and maintenance is quick to help when we have any problems. I love that there are many events that are out together for the residence and you can meet other people who live around here! overall I think its a nice and quiet place to live.

- Yelp Review
5 Star Review: I have loved living here for two years and just signed a lease for a 3rd year. The nature preserve, pool, pond with walking path, gym, yoga room, and apartment layout with porch is great! I have had only positive experiences with the staff. As a graduate student, I appreciate that it is close to MSU but far enough that I can be away from school in a quiet neighborhood.

- ApartmentRatings
This is our second year in Castle Pointe and we really like living here. Friendly and helpful staffs, nice neighborhood and plenty of amenities to explore. I also enjoy their virtual events during COVID 19, took my mind away for a while. We love living here!

- ApartmentRatings
Great surrounding pond, ducks, kids park and many more things. In addition to that friendly staff who also organized many events for residents. FUN FUN!

- Apartments.com
We love living in Castle Point Apartments, renewed our least few months ago. Family environment, playground for kids swimming pool, gym...we enjoy all of them. Quick maintenance response and helpful staffs makes life easy! . Thank you!

- Yelp Review
5 Star Review: I love living here! I feel like I live in a hotel. The pool area is always clean and I love using the gym. The staff is always helpful and responds quickly to anything you may need. So thankful to be here.

- Google Review